Outdoor LCD Display
Outdoor LCD Display
Outdoor LCD Display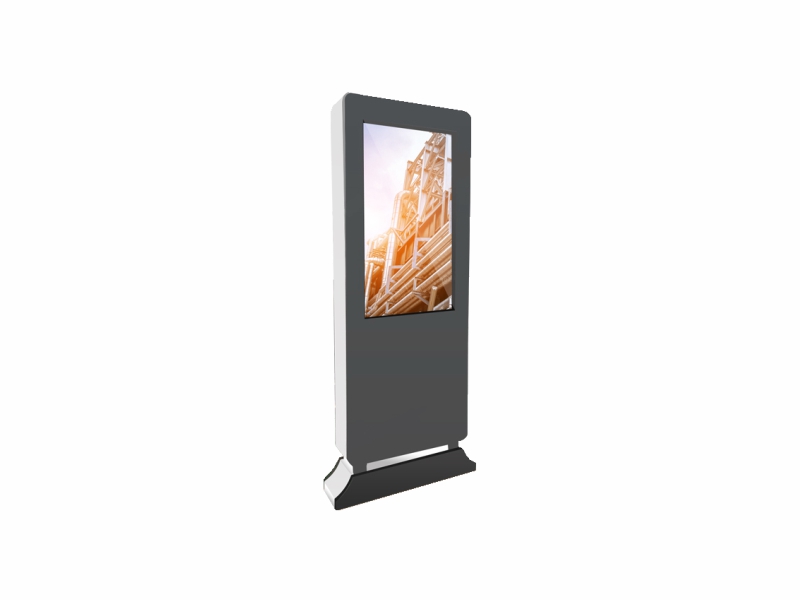 model:KIO-43SN-FC
Outdoor LCD Display
43''Outdoor Floor Standing Single-sided Digital Signage
Slim N Type with Fan Cooling system
Features: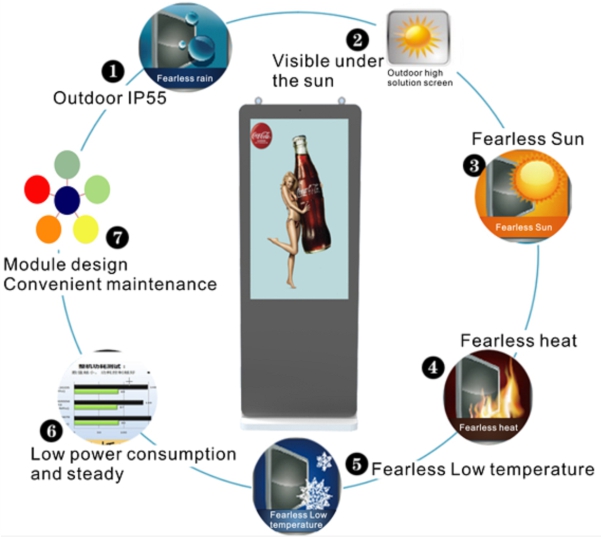 | | | |
| --- | --- | --- |
| Dust-proof System | Fan cooling system | Set segment timing control |
| | | |
| Built-in lightning arrester | Anti-theft lock | Auto sensitivity adjustment brightness |
| | | |

1.IP55 Waterproof Cabinet design:
The shell is made of 1.5mm SGCC galvanized steel plate.
Surface printed by outdoor power.
The shell's color can be customized according to customer demand.
The life span of shell is over 10 years

2.6MM vandal proof glass with or without AR function:
6mm double sided laminated glass coated with AR anti glare are optional.
Its characteristics as high permeability Light, low reflection, vandal-proof.
Prevent 99.99% UV, prevent 52% solar radiation Radiation heat.
Light transmission: over 97%, the reflectivity : less than 3%.
3.Industry Monitor:
Industrial grade special display.
LED backlight brightness: 2000cd/m2; Resolution: 1920*1080.
Industrial grade power supply.
With automatic photosensitive probe, it can adjust the light brightness according to the environmental.

4.Optional : Play System
Embedded network information release system.
Support picture, video, text format.
Support cable network transmission.
Supporting offlined documents issued to play.
Server management software.

5.Electric control system
The totally power supplier control circuit breaker.
The timer can be segmented timing control.
Automatic switch machine.

All weather sunlight readable LCD,

brightness 2000nits ,

LCD will not turn black under direct sunlight

Fan cooling system,

working high temperature up to 55℃

Fan cooling system,

working low temperature below to -35℃

Unique full-sealed enclosure for outdoor use,

waterproof and dustproof meet IP55.

Specification:

TFT LED Specification:

| | |
| --- | --- |
| Items | TFT LCD/LED Display |
| Brand | 43 inch A quality LCD/LED panel, LG/SAMSUNG etc |
| View Area Dimension | 943×531mm(W*H) |
| Aspect ratio | 16:9 |
| Resolution | 1920X1080 |
| Color | 16.7M |
| View angle | 89°/89°/89°/89° |
| Brightness | 2000nits, sunlight-readable |
| Backlight type | LED backlight modular component + constant current source driver component |
| Brightness control | Automatic light sensor system |
| Response time | 6ms |
| Lifespan | 50000 hours |
| MTBF | 40000H |
| Contrast | 3500:1 |

Touchscreen Specification:

| | |
| --- | --- |
| Type | PCAP Touch screen or Touch foil film |
| Resolution | 4096*4096 |
| Light Transmission | 92% |
| Touch Life Cycle | 50 millions |
| Touch Response time | 8ms |
| Touch System Interface | USB interface |
| Power consumption | +5V |

Computer Specification:

| | |
| --- | --- |
| Items | Configurations |
| CPU | RK3288 |
| DDR | 2g memory |
| HARD DISK | 8g flash disk |
| Decoding resolution | Supports up to 1080P |
| Video playback | Supports AVI (H.264, DIVX, DIVX, XVID), rm, rmvb, MKV (H.264, DIVX, DIVX, XVID), WMV, MOV, MP4 (.H.264, MPEG, DIVX, XVID), DAT (VCD format), VOB (DVD format), PMP, MPEG, .MPG ,, FLV (H.263, H.264), ASF, TS, TP, 3GP, MPG and more than 30 formats |
| Image Format | Supports BMP, JPEG, PNG, GIF |
| SD card | standard SD card (supports self-locking) |
| OS system | Android 8.1 |
| Ethernet | 1, 10M / 100M adaptive Ethernet |
| WiFi | On-board high performance SDIO support IEEE 802.11 b/g/n |

Fan Cooling Control System Specification:

| | |
| --- | --- |
| Working temperature | -35℃~55℃ |
| Storage temperature | -35℃~60℃ |
| Working Humidity | 10%~90% |
| Storage Humidity | 10%~90% |
| cooling method | A combination of heat dissipation structure + Military grade aluminum heat dissipation board |
| Protect glass | Normal 6mm vandal proof glass or Special Purpose 6mm AR Laminated Glass (optional on 6MM vandal proof AR glass) |
| Color | Silver, gray, white |
| shell material | Galvanized steel + special outdoor paint |
| Power input | AC100V~240V |
| N.W | 92KG |
| Power Consumption | ≤380W |
| Standby power consumption | ≤3W |
| Warranty | 1year |

Monitoring module Specification:

| | |
| --- | --- |
| High-temperature power-off protection, low-temperature heating | Automatic power-off protection at 60 degrees, Auto-heating below -5 degrees |
| Access alarm | Automatic door open alarm |
| Flood alarm | Water immersion machine alarm |
| Vibration alarm | Vibration alarm on the machine |
| Smoke alarm | Burning smoke alarm inside the machine |
| Humidity alarm | Moderately over 98% alarm inside the machine |